Global Tech Solutions Blog
Global Tech Solutions has been in operation since 2007, providing IT Support such as technical helpdesk support, computer support and consulting.
Downtime Leads to Negativity Across the Board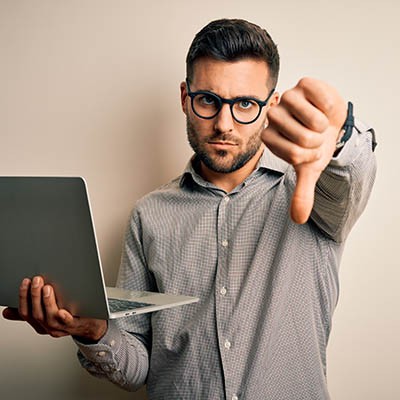 In business, the more time your operations stutter, the more it costs. If downtime is extended, it can cause some serious problems for your business. This is true from the one-man band to the largest enterprise. This month we thought we would outline a couple ways that downtime can have a negative effect on your business aside from the obvious.
Downtime Hurts Productivity
If yours is like other businesses, you have a lot of different kinds of employees. Even your happiest employees get dejected when they can't perform their normal job responsibilities. Some employees will take downtime as an excuse to put their feet up and collect their hourly pay, but most of your workers come to work to work and will grow impatient with large swaths of downtime.
Unproductive employees are a major operational problem whether it is from a lack of initiative or IT systems that aren't available. In fact, studies show that if a business deals with frequent, recurring downtime, they see higher turnover and personnel expenses that come with onboarding and training new employees.
Downtime Hurts Reputation
In what is often an overlooked consequence of frequent downtime, a company's reputation takes a significant hit. Today, consumers are more connected than ever before and sometimes all it takes is one really negative review to do damage to your reputation. With bad news spreading further and faster than ever before, customer relations is more important than ever.
One place where downtime can really hurt the reputation is online. A company's website is one of the most important marketing resources that it has, but if your site is constantly having issues, would-be customers will just move on to a competitor whose website is reliable. Something as simple as web pages not showing can have a major impact on your ability to gain opportunities.
How to Protect Your Bottom Line
One of the best ways to protect yourself from downtime is to understand how it affects your bottom line. To calculate the cost of potential monthly downtime, you can use this algorithm:
(Gross monthly income/total monthly business hours) x percentage of business affected by downtime x number of hours of outage = Lost monthly revenue
Keeping this number as low as possible is the goal. It may be a challenge to keep your IT up and running and ensure that your business continuity strategy is completely managed. In fact, not being able to control downtime in any aspect of business is why many small businesses fail. They simply don't have the capital or the resources to react to downtime-causing events.
Tools to Help Destroy (or At Least Limit) Downtime
There are a few tools that Global Tech Solutions can help you deploy that are amazing at limiting downtime if used properly. They include:
Remote Monitoring and Management
One of the biggest problems businesses face is that when their hardware fails or they have to deal with malware and other unwanted entities on their network, that's it, operations grind to a halt. With a remote monitoring and maintenance service (RMM), professional technicians leverage cutting-edge technology to ensure that any distortion from optimum is investigated and handled before it can cause problems and result in downtime.
Backup and Disaster Recovery
Data loss can be a major problem for a business. So too can malware attacks (through phishing and other means), hardware troubles, and other technological hiccups. With Backup and Disaster Recovery (BDR), your company's data will be backed up both onsite and in the cloud. This will ensure that if something goes horribly wrong that you have a reliably backed up set of data that you can use to mitigate downtime and keep your business moving forward.
Don't let downtime ruin your small business. To get the tools and expertise you need to reduce or eliminate downtime, reach out to our experts today at (800) 484-0195.
Comments
No comments made yet. Be the first to submit a comment