Global Tech Solutions Blog
Global Tech Solutions has been in operation since 2007, providing IT Support such as technical helpdesk support, computer support and consulting.
Are Smartphones Productivity Tools or Distraction Disasters?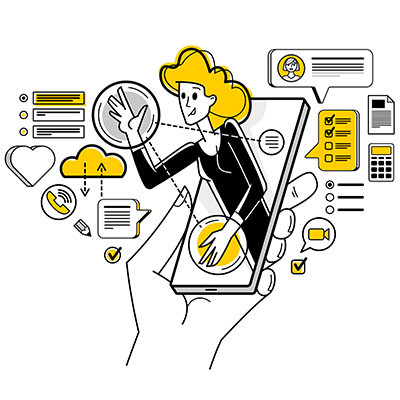 We've all felt the momentary panic when we reach for our pocket to pull out our smartphone, only to realize that it's not there. This panic is indicative of a deeper issue with how our society has become reliant on technology, so much so that we have miniature computers in our pockets at all times. Are you using your smartphone as a distraction tool or as a productivity tool? That's what we're trying to answer with today's blog.
Smartphones as Distraction Tools
Smartphones are known to kill productivity when they aren't used intentionally. The average person checks their phone every 12 minutes, leading many mental health professionals to cite it as a major cause of several mental health problems. Just think—in the workplace, that's nearly over an hour and a half of time spent on the smartphone… multiplied by every employee, including yourself.
Some of the major culprits include social media websites like Facebook and Twitter, as well as video sites like TikTok and YouTube. They all have notifications that specifically get users to open them, and once the distraction sets in, you can bet it's hard to get back to work.
Smartphones as Productivity Tools
Smartphones have also allowed business professionals to be remarkably productive, in a bizarre twist. Businesses can contact their employees whenever they need to (although whether this is a good thing is a whole other matter), and your customers have never had greater access to your business. Many companies might try to limit smartphone use in the workplace, only to later unban them after they see just how productive their employees can be with them.
Keep Your Smartphone Use Productive
Yes, the smartphone can be both a distraction and a productivity tool, so you should be sure to treat it like both of these things. Here are three ways you can allow your team to get the most out of their devices while minimizing distractions.
Disable push notifications: Push notifications can disrupt your productivity, so we recommend turning them off for every app you download. If you do this, you might find yourself experiencing fewer distractions during the day.
Turn on airplane mode: In airplane mode, you'll receive fewer notifications while also preventing yourself from using the various data-driven applications on your device. You can always toggle it on and off as needed depending on the situation.
Hide or remove social media apps: If you're someone who spends a lot of time scrolling on Instagram or sending Facebook messages to your group chats, then perhaps it's time to either remove your social media apps or move them somewhere on your device where they are not as easily accessible. This should help you avoid scratching the itch to check them so often.
Technology and time management go hand in hand, so if your business is struggling to make better use of its tools, Global Tech Solutions can help. To learn more, call us at (800) 484-0195.
About the author
Global Tech Solutions has been in operation since 2007, providing IT Support such as technical helpdesk support, computer support and consulting.
Comments
No comments made yet. Be the first to submit a comment