Global Tech Solutions Blog
Global Tech Solutions has been in operation since 2007, providing IT Support such as technical helpdesk support, computer support and consulting.
Experts Predict that the Hybrid Office Isn't Going Anywhere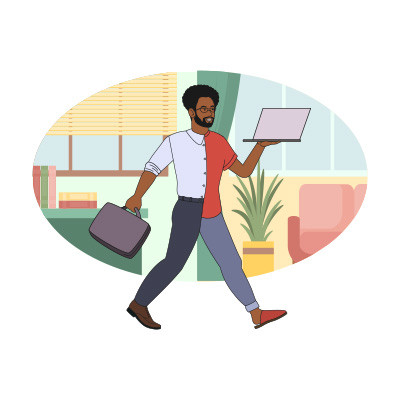 For reasons that we're all too familiar with, the workplace changed drastically a few years ago when office workers everywhere suddenly found themselves thrust into remote work. As it turns out, a lot of them have liked being able to work remotely. That makes the efforts of a few outspoken companies to roll back remote work somewhat worrisome… but experts aren't convinced these outliers represent the reality of the situation.
In fact, the real numbers are trending toward the opposite—that the hybrid office will actually become more of the norm as time passes, with different companies adjusting their approach to match their specific needs and approach to work.
The Push for a Return to Office Has Been Exaggerated
The news has been filled with reports of different companies reeling their employees back into the office at different degrees, requiring their employees to jump through hoops for the privilege of working out of the office and otherwise making the work situation challenging. Some experts have even described these requirements as akin to disguised layoffs—If you can't come into the office, you can't work here anymore.
Generally speaking, however, these kinds of situations are relatively rare.
Many more businesses are accepting, even embracing, the idea of a more hybridized workspace. According to data cited by Prithwiraj Choudhury, one of the associate professors at Harvard Business School, approximately 30% of United States workdays are completed remotely and office occupancy has hovered at around 50%... hardly an intense campaign to pull employees back in-house.
Instead, Hybrid Efforts are Being Shaped to Fit Specific Business Needs
There are numerous reasons that a hybrid approach benefits a company, largely due to the benefit it gives to a company's employees. First of all, the flexibility that it allows your team to enjoy serves as a great recruitment tool to attract the most promising job candidates, allowing you to select the crème de la crème of the talent pool.
It's also important that you identify the approach to hybrid that will work best for your workforce, which may mean that different departments will have different requirements and in-house schedules, based on their specific processes.
When all is said and done, workplace flexibility is clearly going to become a hiring prerequisite for many, rather than an added perk.
We Can Help You Manage Your Hybrid Workforce by Implementing the Necessary Technology
We help businesses around New York manage their technology, and we can help you, too. Give us a call at (800) 484-0195 to learn more.
About the author
Global Tech Solutions has been in operation since 2007, providing IT Support such as technical helpdesk support, computer support and consulting.
Comments
No comments made yet. Be the first to submit a comment